Wireless motion detector with microwave sensor that notifies the owner of first signs of home or office intrusion. Designed for rooms with air conditioners, fireplaces and where there is a likelihood of light flickering, glare and reflections.
Principle of operation
Detects human presence by temperature difference with background thermal radiation. The microwave sensor prevents false alarms caused by complex interference.
Features
Designed for operation in rooms with fireplaces and air conditioners. Detects and ignores draughts, movement of curtains and blinds, and light flickering, glare and reflections.
Installation and set up
Ready to operate straight out the box. The battery is already installed inside, therefore there is no need to disassemble the detector. It can be mounted in just a few minutes using the SmartBracket mount.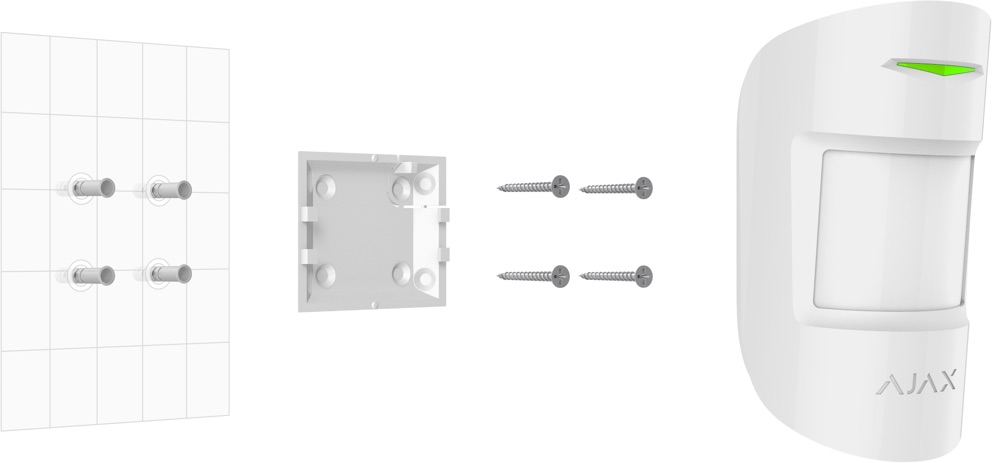 Specification
Classification
Electro-optical combined radio channel security detector
Type of detector
Wireless
Installation method
Indoors
Compatibility
Operates with Hub, Hub Plus, ReX, ocBridge Plus, uartBridge
Sensing element
PIR sensor, microwave sensor (24 GHz)
Alarm signal delivery time
0.15 s
Motion detection distance
Up to 12 m
Detection angles
Horizontal — 88.5°
Vertical — 80°
Sensitivity
Adjustable, 3 levels
Recommended installation height
2.4 m
Pet immunity
Weight — up to 20 kg
Height — up to 50 cm
Power supply
Battery: CR123A battery
Power supply voltage: 3 V
Battery life — up to 5 years
Temperature sensor
Available
Operating temperature range
+5°С to +40°С
Permissible humidity
Up to 75%
Anti-sabotage
Protection against fraud
Jamming detection
Tamper-resistant
Remote setting and testing
+
Dimensions
110х65×50 mm
Weight
96 g
Certification
Grade 2, CE
Warranty
Replacement and repair within 24 months of the date of sale. Batteries are not covered under warranty.
Complete set
MotionProtect Plus motion detector
SmartBracket mounting panel
CR123A battery (pre-installed)
Installation set
User's guide